Info on Wake-up Clock Gives Your Favorite Wake Up Smell
Tweet
Share on Facebook
Share on Google+
Sensorwake Wakeup Clock
Yes, you probably could wait for it. And now it is there. The newly developed wake-up clock that spreads your favorite smell that will wake you up, assures the developer. So you experience a soft and an enjoyable wake-up. Even, when you are a a big sleeper, an early riser or a late-to-bedder. The power of our stimulant smells will wake you up, he says.
Development and awards.
The developer of this olfactory wake-up clock happens to be a young French engineering student who doesn't like the alarm clock going off in the morning.
He and his team succeeded in raising enough money to develop this new wake-up device.
It even won already awards for their innovation.
How it works.
The system - dimensions in inches: 3.5 (Length) 3.5 (Width) 3.9 (Depth) - works with smell capsules, releasing the smell gradually after the set time. You can program for in case after 3 minutes the off button hasn't been hit, the alarm will be heard.
Aromas and capsule life span
Each capsule can be used 30 times. The aromas that become available are: Chocolate, Peppermint, Cut grass, Sea, Croissant and Espresso.
Watch the video here:.
The retail price is indicated at $109 - and when it will be available?
Probably in the course of 2016. If you want to go for a pre-order - price $89 - you do so at
the Sensorwake website.
A wake-up clock that produces a nice smell to awake you, makes people curious. Even a radiostation set up a poll to ask its listeners about their favorite smell. In the poll you can choose smells such as Wet dog freshly bathed, Bacon, Gasoline, Car exhaust,Skunk, Asphalt, Dryer vent, Salt air Pancakes and more...
Here's the "What smell would you wake up to" poll.
The new Sensorwake clock I mention earlier, reminds me of the popular Peaceful Progression Wakeup clock from Hammacher (see image below):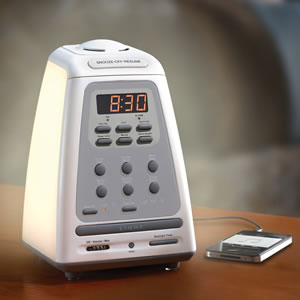 Gently and Peaceful Progression Wakeup Clock
- Image: Hammacher -
It is indeed a nicely designed unique Gently and Peaceful Progression Wakeup Clock.
It wakes you up gradually starting with glowing light and nature sounds.
If you want it releases aroma scents of your choice.
At the end of its procedure, a chime will be heard in case you did not awake.
For the scents you can use your own aromatherapy oils or use the aroma beads: Ocean Water, Pear Vanilla, Lavender Essence, and Clean Cotton) - that come with the clock.
EXCLUSIVE: The Peaceful Progression Wake Up Clock from Hammacher + Free Shipping on $99+ with code HSFREE
If you're interested in scents dispersed by oil diffusers then look for information at
Best Essential Oil Diffusers.
A wake-up clock featuring bright light.
Then there are wake up clocks equipped with a bright light to wake you up. An example of such a wake-up clock is the Medisana Wake Up Light also featuring an alarm and a MP3 player connection.
You can even choose to be waken up by your favorite light color or your favorite nature sound.
See Here on Amazon for more info and best pricing of the Medisana Wake-Up Light with Alarm & MP3 player connection.